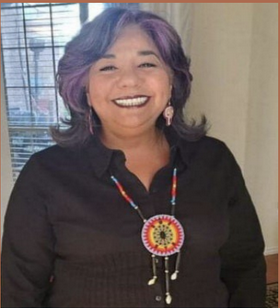 Diana Parton Smith began her career at the Fort Worth ISD's American Indian Education Program. The purpose of the program was to work with the parents and community to provide an educational support network for American Indian children to help their successful graduation. After 7 years, she took on the role of Executive Director of the American Indian Chamber of Commerce of Texas. The Chamber's focus was to grow new and existing First Nations businesses in the state of Texas.
In 2012 Diana accepted the position of Tribal Administrator of the Caddo Nation of Oklahoma. She has served on the Boards of the American Indian Center and the United Way Diversity Council of Tarrant County. She currently serves on boards for Texas Native Health, Metro Caddo Culture Club, and the Native American Advisory Board at University of Texas
Diana is a Gardener tending and growing both plants and human souls. Her cooking is grounded in her family and tribal traditions. You can sum up Diana Parton's life purpose by listening to her prayers. During her morning prayers she gives thanks to Creator for 3 things; making her a woman, a mother and making her Caddo and Euchee. At night she gives thanks to Creator for opening the way, teaching her the way and for protecting her while she's walking the way.